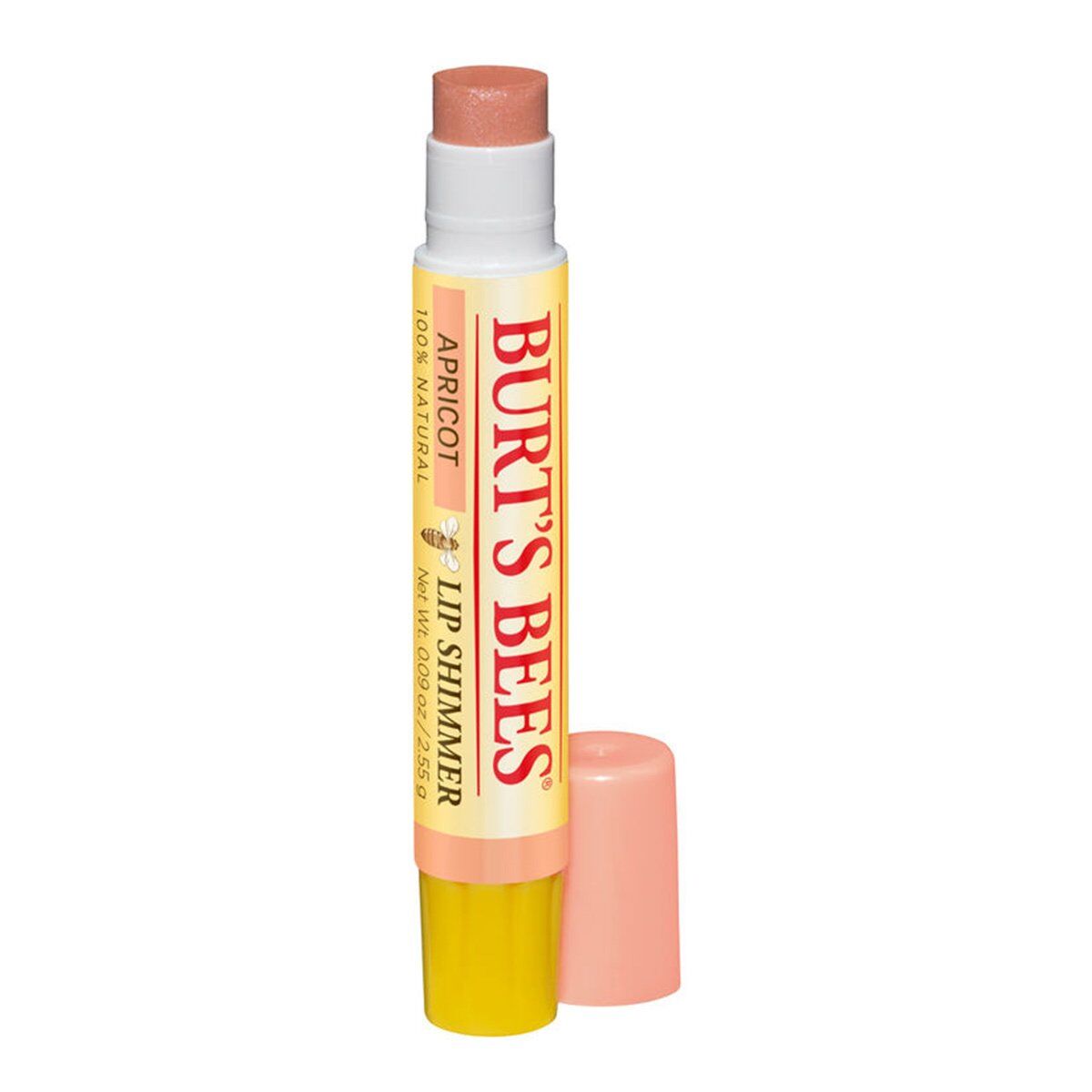 KEY INGREDIENTS
lanolin

butyrospermum parkii butter

cera alba

copernicia cerifera wax

+9 more

Appears in 0 user routines
Product summary
Judging from the ingredient list, "Burt's Bees - Lip Shimmer - Apricot" works well for improving skin hydration
Irritation risk
This lip sunscreen contains some common irritants, including those without a benefit for the skin. We assess the overall irritancy of it to be high. For a detailed overview of all potential irritants: click here
You can see the detailed formula review with the breakdown of all actives in the product and the full ingredient list with estimated concentrations in the tables below.
Price
The product retails from 6.97CA$ up to 10.50CA$ in Canada, for 9.95A$ in Australia, at around 7.00$ in the United States and from 5.99£ up to 7.79£ in the United Kingdom.
For a detailed price comparison: click here.
Can the product deliver on its promises?
See a mistake?
Promise
What does the product description say?
"Shea Butter and antioxidant-rich fruit oils moisturize, nourish, and soften lips naturally and lovingly. . Nourishes and moisturizes lips with vitamin E and beeswax ."
WIMJ summary for moisturizing
This product can help soften the skin and reduce its moisture loss with emollients and occlusives: beeswax, cera alba.
Keep in mind that this product does not contain effective ingredients to attract water to the upper layer of the skin. This is why an additional product with humectants like glycerin or hyaluronic acid can be helpful (apply it before this product for the best results).
The following ingredients in this product are especially good for supporting the skin barrier and helping with the hydration level: lanolin
| Ingredient | Effectiveness | Concentration | Irritancy |
| --- | --- | --- | --- |
| | | | |
| | | | |
| | | | |
How honest is this product?
| Promise | Can it deliver? |
| --- | --- |
| Moisturizing | |
Total Promises Fulfilled score:
100
/100.
Potential irritants

Ingredients by volume
Ingredient
Estimated concentration

A plant oil that can help soften the skin. It might be helpful in calming down inflammation, but solid research is lacking. Is often used in lip products to create the needed product consistency

25% - 38%

A great emollient due to its high linoleic acid content. One of the most effective plant oils in helping skin hydration and repairing skin barrier function

5.8% - 8.7%

Forms a protective barrier that holds water and keeps dry skin hydrated. Keeps an emulsion from separating into its oil and liquid components, and increases the thickness of a product. Can be an allergen

3.5% - 5.3%

Show more