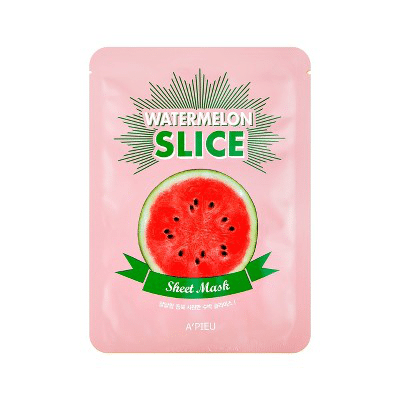 A'PIEU
Watermelon Slice Sheet Masks
KEY INGREDIENTS
arginine

glycerin

honey extract

lactobacillus/soybean ferment extract

saccharomyces/imperata cylindrica root ferment extract

+2 more
Where to buy?
Formula review
See a mistake?
Promise
What does the product description say?
"Soothing, hydrating, moisturizing,Mask patches in two sizes for targeted spot care,Free of alcohol, dyes, mineral oil, and gluten,20g Cover your face and body in cooling watermelon slices with the A'PIEU Watermelon Slice Sheet Masks!"
WIMJ
summary
This product can help improve hydration of the skin with the two types of ingredients.
The first type is called "humectants":
these ingredients help attract water. When humectants are on the surface of the skin, they "pull in" the moisture from the outside environment, or from within deeper layers of the skin. The following ingredients in this product do the job: glycerin, honey extract.
This product also contains ingredients called "occlusives". They help reduce the speed with which our skin loses moisture to the outside environment. These ingredients also help soften the upper layer of the skin, so it feels less tight and nicer to the touch. The following ingredients in this product do the job: saccharomyces/imperata cylindrica root ferment extract, caprylyl glycol.
| Ingredient | Effectiveness | Concentration | Irritancy |
| --- | --- | --- | --- |
| | | | |
| | | | |
| | | | |
Potential irritants
Ingredients by volume
Ingredient
Estimated concentration

Plain old water

40% - 60%

Used to create a nice product texture and help delivery of other ingredients. Might be somewhat helpful in attracting water to the upper layer of the skin

5.9% - 8.8%

One of the best moisturizing ingredients. Naturally present in skin. It attracts water to the upper layer of the skin working as a humectant

3.7% - 5.6%

2.8% - 4.1%

A plant extract that can contain an antioxidant compound

2.1% - 3.1%

Helps attract water to the upper layer of the skin

1.7% - 2.6%

1.4% - 2.2%

1.2% - 1.8%

A mushroom extract that might help attract water to the upper layer of the skin

1% - 1.5%

A fermentation product created by bacteria Lactobacillus out of soybean. The fermented product helps to attract water to the upper layer of the skin and has anti-bacterial properties. It might be helpful in calming down inflammation and could be helpful in evening out skin tone, but studies are lacking

0.6% - 1.4%

Yeast extract obtained from a plant root (cogon grass). It works as an excellent humectant attracting water to the upper layer of the skin. Can have some anti-inflammatory effect

0.5% - 1.2%

0.4% - 0.95%

0.35% - 0.85%

0.35% - 0.85%

Helps oil and water mix together

0.3% - 0.7%

Helps create a gel-like product texture. Can be used in gentle cleansing formulations

0.15% - 0.65%

Used to create a thicker product consistency

0.15% - 0.6%

A preservative

0.1% - 0.45%

Helps preserve products and creates a nice product texture

0.15% - 0.5%

0.1% - 0.3%

An amino acid that is naturally present in skin and helps keep it hydrated. When used together with AHAs, it can reduce their irritating effect on the skin

0.05% - 0.25%

A preservative. It helps prevent bacterial growth in cosmetic products

0.05% - 0.3%

Stabilizes the product formulation

0.05% - 0.1%

An aromatic blend of unspecified and possibly irritating ingredients

0.05% - 0.1%

Show more