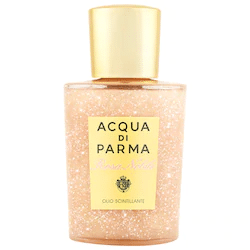 WORKS FOR
Moisturizing
Anti-blemish
KEY INGREDIENTS
butyrospermum parkii butter unsaponifiables

coco-caprylate/caprate

ethyl linoleate

punica granatum seed oil

silica

simmondsia chinensis seed oil

squalane

titanium dioxide

tocopherol

+6 more

Where to buy?
Formula review
See a mistake?
WIMJ
summary
This product might be able to help reduce blemishes and clogged pores because it contains ethyl linoleate.
| Ingredient | Effectiveness | Concentration | Irritancy |
| --- | --- | --- | --- |
| | | | |
See a mistake?
Promise
What does the product description say?
"The formula blends jojoba oil's emollient properties with pomegranate seed oil and shea butter to enhance skin's visible radiance, leaving it hydrated and perfectly smooth."
WIMJ
summary
This product can help soften the skin and reduce its moisture loss with emollients and occlusives: simmondsia chinensis seed oil, squalane.
Keep in mind that this product does not contain effective ingredients to attract water to the upper layer of the skin. This is why an additional product with humectants like glycerin or hyaluronic acid can be helpful (apply it before this product for the best results).
| Ingredient | Effectiveness | Concentration | Irritancy |
| --- | --- | --- | --- |
| | | | |
| | | | |
| | | | |
Potential irritants

Ingredients by volume
Ingredient
Estimated concentration

Helps soften the upper layer of the skin and create a thicker product consistency

TBC

Helps to soften the upper layer of the skin without creating a greasy texture

TBC

Softens the upper layer of skin and helps restore the healthy skin barrier. Has shown to help calm down inflammation in skin. It is a stable oil, meaning that it retains its properties even when exposed to air.

TBC

An oil naturally present in skin. Works as an emollient to soften the skin and form a protective layer on its surface without a greasy feeling.

TBC

An aromatic blend of unspecified and possibly irritating ingredients

TBC

Used to absorb oil and can temporarily mattify skin

TBC

Used to add shimmer

TBC

A preservative. It helps prevent bacterial growth in cosmetic products

TBC

Works as a UV filter when used in high concentrations. It is photostable and is effective mostly against the UVB light, with some protection in the UVA range. In small concentrations, used for its ability to improve the color of cosmetic products. Is usually well tolerated by the skin

TBC

Used to increase stability of product formulations

TBC

Helps soften the upper layer of the skin

TBC

Creates an illusion of smoother and more radiant skin tone. Adds shimmer to the skin by reflecting light

TBC

A fragrance with jasmine smell. A likely irritant

TBC

TBC

A fragrance. Can be irritating

TBC

A fragrance. A likely allergen and can be irritating

TBC

TBC

A common frangrance that can easily irritate skin, especially if exposed to air, light or heat

TBC

A fragrance. Can be irritating

TBC

A fragrance. Potential allergen and can be irritating

TBC

A fragrance. Can be irritating

TBC

A fragrance. Is a likely irritant

TBC

Pure form of vitamin E. Can help moisturise and protect the skin from free radicals. Often used to help stabilise other ingredients or the formula itself

TBC

A great moisturizing ingredient that softens the skin and reduces water loss from its upper layer. It also can be helpful in protecting skin from free radicals

TBC

Helps reduce acne and blemishes. Helps to soften the upper layer of the skin and reduce inflammation. Might be helpful in reducing hyperpigmentation and evening out the skin tone, but evidence of effectiveness in skin are lacking

TBC

A colorant that can add a pearl-like appearance to the formulation

TBC

TBC

A red colorant made of iron oxide. Typically is not irritating

TBC

Carmine. A colorant. Can be an allergen

TBC

Can work as an exfoliant but is typically used to adjust the product pH

TBC

Show more