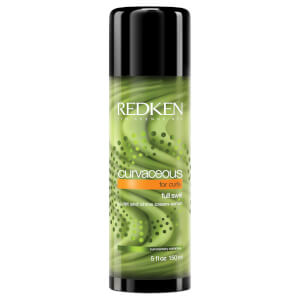 Redken
Curvaceous Full Swirl Cream Serum
KEY INGREDIENTS
panthenol

benzophenone-4

dimethicone

dimethiconol

glycerin

octyldodecyl neopentanoate

titanium dioxide

tocopherol

+5 more

Where to buy?
Formula review
See a mistake?
Promise
What does the product description say?
"Fortified with the brand's exclusive Curl Memory Complex and the Interlock Protein Network (IPN), the leave-in formula works to fight humidity, lock in moisture and reactivate shape, whilst improving manageability and boosting shine to perfect and enhance curls."
WIMJ
summary
This product can help improve hydration of the skin with the two types of ingredients.
The first type is called "humectants":
these ingredients help attract water. When humectants are on the surface of the skin, they "pull in" the moisture from the outside environment, or from within deeper layers of the skin. The following ingredients in this product do the job: glycerin, butylene glycol.
This product also contains ingredients called "occlusives". They help reduce the speed with which our skin loses moisture to the outside environment. These ingredients also help soften the upper layer of the skin, so it feels less tight and nicer to the touch. The following ingredients in this product do the job: dimethicone, dimethiconol.
The following ingredients in this product are especially good for supporting the skin barrier and helping with the hydration level: panthenol
| Ingredient | Effectiveness | Concentration | Irritancy |
| --- | --- | --- | --- |
| | | | |
| | | | |
| | | | |
Potential irritants

Ingredients by volume
Ingredient
Estimated concentration

Plain old water

40% - 60%

One of the best moisturizing ingredients. Naturally present in skin. It attracts water to the upper layer of the skin working as a humectant

3.8% - 5.7%

Used to create a nice product texture and help delivery of other ingredients. Might be somewhat helpful in attracting water to the upper layer of the skin

3.3% - 4.9%

Helps soften the upper layer of the skin and create a nice product finish

2.6% - 3.9%

Produces temporary toning effect. Can help dissolve other ingredients or preserve products

2% - 3%

A silicone that helps to reduce water loss from the surface of the skin. Can temporarily "fill in" lines and wrinkles, absorb oil, and create a nice product finish

1.7% - 2.5%

Helps oil and water mix together

1.3% - 2%

Helps attract water to the upper layer of the skin and can help improve skin barrier function

1.2% - 1.7%

Maintains the texture of skincare products. Allows the product to spread evenly. Helps oil and water mix together

1% - 1.5%

An aromatic blend of unspecified and possibly irritating ingredients

0.5% - 1.15%

A preservative. It helps prevent bacterial growth in cosmetic products

0.35% - 0.85%

A preservative. Can be irritating

0.25% - 0.5%

A preservative

0.16% - 0.32%

Used to adjust pH of the product and can help improve the product's smell

0.1% - 0.45%

Helps attract water to the upper layer of the skin and improves the product texture

0.1% - 0.4%

Helps create a gel-like product texture. Can be used in gentle cleansing formulations

0.1% - 0.45%

Used to create a thicker product consistency

0.1% - 0.45%

Stabilizes the product formulation

0.1% - 0.45%

A silicone that makes products more spreadable and keeps skin smooth. Helps to add gloss to skin and may visually fill in fine lines/wrinkles for short time

0.15% - 0.5%

Improves the texture of the product and helps soften the skin. Helps oil and water mix together and can be used as a cleansing agent

0.15% - 0.55%

Used to adjust the pH in formulations

0.1% - 0.3%

An emollient that helps soften the skin. Often used to stabilize other ingredients, for example, sunscreen

0.1% - 0.35%

Works as a UV filter when used in high concentrations. It is photostable and is effective mostly against the UVB light, with some protection in the UVA range. In small concentrations, used for its ability to improve the color of cosmetic products. Is usually well tolerated by the skin

0.1% - 0.4%

Used to increase stability of product formulations

0.05% - 0.25%

A preservative

0.05% - 0.25%

A fragrance with jasmine smell. A likely irritant

0.05% - 0.2%

Helps water and oil mix together

0.05% - 0.3%

Helps oil and water mix together

0.05% - 0.3%

Helps oil and water mix together

0.05% - 0.25%

A fragrance. Can be irritating

0.05% - 0.2%

0.05% - 0.25%

Helps oil and water mix together

0.05% - 0.2%

A common frangrance that can easily irritate skin, especially if exposed to air, light or heat

0.05% - 0.15%

Used to thicken the product formulation and might help to add minerals to the surface of the skin. It is used in scrubs as a physical exfoliant. Can increase sensitivity to other ingredients if left on the skin or used in high concentration

0.05% - 0.2%

Sulisobenzone. A UV filter. Is typically used to improve the product stability under exposure to UV light. It is effective against both UVA and UVB rays. It can be used is larger concentrations as a sun protection ingredient for the skin, but can be irritating

0.15% - 0.55%

The ingredient is not recognized

TBC

A fragrance. Is a likely skin allergen and can be irritating

0.05% - 0.2%

A preservative. Can be used to mask unpleasant smell. Can be irritating

0.05% - 0.15%

A drying alcohol. Can increase skin's sensitivity and cause dryness and irritation

0.05% - 0.2%

A colorant (dye)

0.05% - 0.2%

A preservative

0.05% - 0.15%

A yellow dye

0.05% - 0.2%

Pure form of vitamin E. Can help moisturise and protect the skin from free radicals. Often used to help stabilise other ingredients or the formula itself

0.05% - 0.2%

Show more