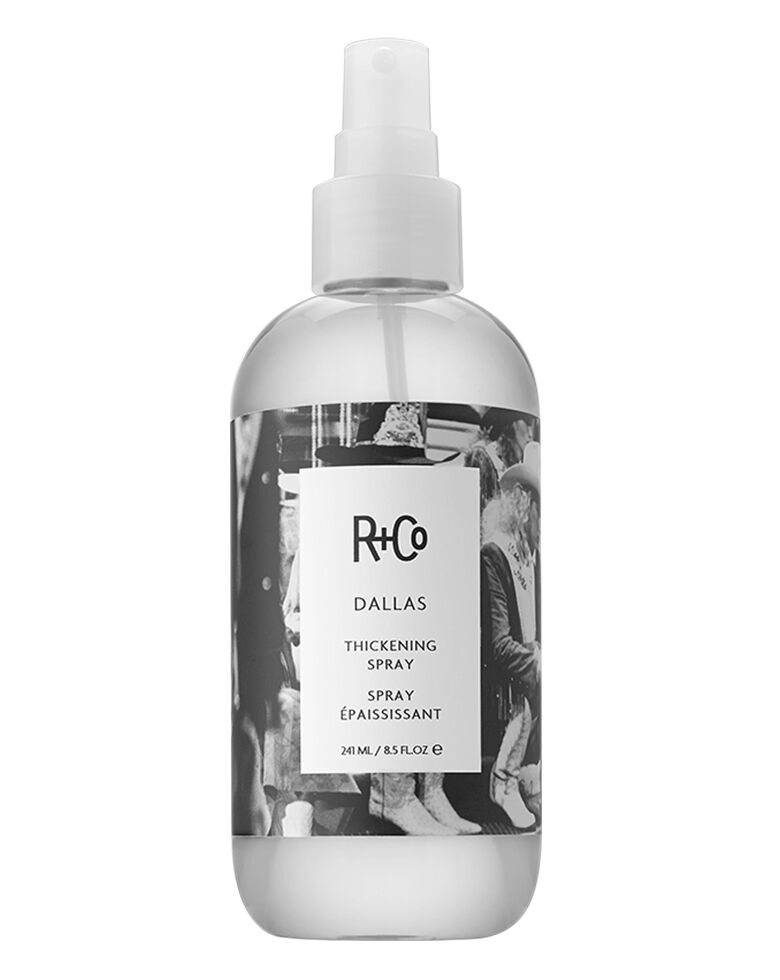 R+Co
DALLAS Thickening Spray
KEY INGREDIENTS
biotinoyl tripeptide-1

panthenol

alanine

arginine

aspartic acid

glycine

histidine

isoleucine

oleanolic acid

pca

peg-12 dimethicone

proline

serine

sodium lactate

sodium pca

threonine

+13 more

Where to buy?
Formula review
See a mistake?
WIMJ
summary
This product contains aspartic acid, biotinoyl tripeptide-1, serine, threonine. These ingredients might be able to help reduce and prevent fine lines and wrinkles, improve skin elasticity and firmness, but there is not enough evidence that it actually works.
| Ingredient | Effectiveness | Concentration | Irritancy |
| --- | --- | --- | --- |
| | | | |
| | | | |
| | | | |
See a mistake?
Promise
What does the product description say?
"Fragranced with DARK WAVES (a warm and romantic scent blended with cardamom, pineapple, tangerine, lavender, bamboo and blonde woods) and formulated with aloe leaf extract to help seal in moisture and prevent moisture loss, ginger root extract and amino acid complex to protect hair as well as pro-vitamin B5 to thicken and build volume, this is a hard-working spray that all volume seekers need, stat!"
WIMJ
summary
This product can help improve hydration of the skin with the two types of ingredients.
The first type is called "humectants":
these ingredients help attract water. When humectants are on the surface of the skin, they "pull in" the moisture from the outside environment, or from within deeper layers of the skin. The following ingredients in this product do the job: alanine, arginine.
This product also contains ingredients called "occlusives". They help reduce the speed with which our skin loses moisture to the outside environment. These ingredients also help soften the upper layer of the skin, so it feels less tight and nicer to the touch. The following ingredients in this product do the job: arginine, aloe barbadensis leaf extract.
The following ingredients in this product are especially good for supporting the skin barrier and helping with the hydration level: biotinoyl tripeptide-1, panthenol
| Ingredient | Effectiveness | Concentration | Irritancy |
| --- | --- | --- | --- |
| | | | |
| | | | |
| | | | |
Potential irritants

Ingredients by volume
Ingredient
Estimated concentration

Produces temporary toning effect. Can help dissolve other ingredients or preserve products

23% - 35%

Plain old water

10% - 16%

The ingredient is not recognized

TBC

Used to stabilize product formulation, help create an even product layer over skin (for example, in sunscreen) and create a thicker product consistency

4.8% - 7.3%

Helps attract water to the upper layer of the skin and can help improve skin barrier function

2.7% - 4.1%

2.1% - 3.2%

A plant extract that might have some anti-oxidant properties, but evidence of effectiveness in skin is lacking

1.6% - 2.3%

Traditionally used to treat sunburns, dermatitis and inflammation, but evidence for its effectiveness is lacking. The extract can contain humectants that help attract water into the skin

1.5% - 2.2%

1.2% - 1.8%

A fruit extract that might help attract water to the upper layer of the skin. There is no evidence of other benefits in skin

1.2% - 1.8%

A plant extract that might help neutralize free radicals in skin

1.1% - 1.6%

0.9% - 1.35%

A plant extract that might help neutralize free radicals in skin. Can contain volalite oils and be irritating

0.6% - 1.4%

A plant extract that might help neutralize free radicals in skin. Can contain volalite oils and be irritating

0.8% - 1.2%

0.85% - 1.25%

An amino acid that is naturally present in skin and helps keep it hydrated. When used together with AHAs, it can reduce their irritating effect on the skin

0.55% - 1.3%

An amino-acid that helps increase skin hydration and might help to slightly improve skin firmness, potentially reducing lines and wrinkles

0.55% - 1.3%

Might be helpful against blemishes, work as an anti-oxidant, reduce inflammation and improve skin's ability to hold on to moisture, but more research is needed to confirm its effectiveness when applied topically to human skin

0.55% - 1.25%

0.5% - 1.2%

An amino-acid that helps to attract water to the upper layer of the skin. In combination with other amino-acids, might help to reduce fine lines and wrinkles

0.5% - 1.1%

0.45% - 1.05%

Helps to attract water to the upper layer of the skin and can help restore the skin barrier function

0.45% - 1%

An amino-acid that helps to attract water to the upper layer of the skin and might help to lighten the skin, but solid evidence is lacking

0.45% - 1%

An amino acid that can help attract water to the upper layer of the skin and support skin's barrier function

0.45% - 1%

0.45% - 1.05%

An amino-acid that helps to attract water to the upper layer of the skin. In combination with other amino-acids, might help to reduce fine lines and wrinkles

0.45% - 1%

0.4% - 0.95%

0.4% - 0.95%

Naturally present in skin and helps to attract water to its upper layer

0.4% - 0.9%

Naturally present in skin and helps to attract water to its upper layer

0.35% - 0.85%

Helps attract water to the upper layer of the skin. Is often used to adjust the pH level of the product

0.2% - 0.8%

Helps soften the upper layer of the skin and create a nice product texture

0.2% - 0.8%

Helps oil and water mix together

0.3% - 0.75%

Helps oil and water mix together

0.3% - 0.7%

Used to create a nice product texture and help delivery of other ingredients. Might be somewhat helpful in attracting water to the upper layer of the skin

0.2% - 0.75%

Used to adjust the pH in formulations

0.2% - 0.7%

Stabilizes the product formulation

0.15% - 0.6%

A type of peptide. Peptides are excellent moisturizers and might be able support collagen production reducing fine lines and wrinkles

0.15% - 0.55%

A preservative

0.16% - 0.32%

A preservative

0.1% - 0.35%

A preservative

0.05% - 0.25%

A preservative. It helps prevent bacterial growth in cosmetic products

0.05% - 0.25%

An aromatic blend of unspecified and possibly irritating ingredients

0.05% - 0.3%

A common frangrance that can easily irritate skin, especially if exposed to air, light or heat

0.05% - 0.25%

A fragrance with a lemon scent. A likely irritant

0.05% - 0.15%

Show more